4 Winter Driving Tips in North Carolina
Winter is just around the corner in North Carolina. While it's not known for brutal winters, the lighter winters can create driving issues of their own thanks to fewer chances to experience what driving on slush or ice does to your stopping ability. Here are a few tips for winter driving in North Carolina.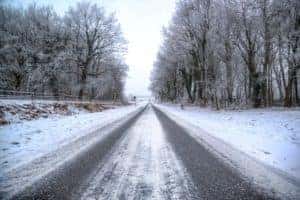 Check the Weather
The best way to drive in a winter storm is to avoid it altogether if possible. Check the weather forecast to find out when an approaching storm will be at its worst. Avoid the roads during these times, and if your work gives you the option to work from home occasionally, take advantage of it. If road crews will be treating the roads during the storm, you usually don't see them in full force until the storm is on its way out.
Get Some Snow Tires If You Can
Having snow tires installed for the winter season can really help put you in control of how your car handles during snowy weather. Typically, snow tires will stop 10 feet sooner than even the newest all-season tires. While ten feet doesn't sound like a lot, it can make all the difference if you need to stop in a hurry. Four-wheel drive will help you get through treacherous snow-covered roads, but it won't help you stop any sooner than a front-wheel-drive car.
Make Sure Your Car is Outfitted for Winter
While winter tires in North Carolina might be overkill, there are other ways to make sure your vehicle is prepared for winter driving. Make sure your tires have some tread on them. Yes, having your tires changed is often pricey, time-consuming, and usually needs to be done at the least opportune of times, but having some decent tread on your tires will help you handle in rough winter weather better than anything.
Another thing to do is to pick up some supplies to keep in your car. An ice scraper and small shovel are definitely must-haves. Other nice things to include are cat litter (for adding traction if you get stuck on ice) and extra wiper fluid, and keep the gas tank at least half full for extra weight. It wouldn't hurt to have a first aid kit, some flashlights, and emergency blankets in case you end up stuck for a long time.
Drive Smart
There are enough distractions on the road during winter weather. In addition to some potentially beautiful scenery, you'll also be dealing with reduced visibility and increased stopping times. This means giving your undivided attention to the road is paramount to safe winter driving. Don't ride the bumpers of drivers ahead of you, especially if you can't see the traffic pattern in front of them.
Be prepared for driving in winter this year. Take the necessary steps now to make sure your car is in tip-top shape. If possible, check the weather and plan on not driving during the peak of any snowstorm. If you must go out, staying focused will help keep everyone safe.
Image via Pixabay