Enjoy a Night of Music in Raleigh
Although Charlotte and Asheville might get all the attention for the big-name concerts, up-and-coming artists, and underground scenes, don't forget about Raleigh. Population growth and increased interest in the arts allow the music scene in Raleigh to thrive. From local bars to music venues, the Raleigh music scene looks poised for a breakout in the year ahead. Whether you want to hear cover songs or check out an original artist, you can enjoy a night of music just about anywhere in the city.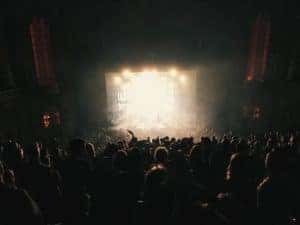 The Ritz
Located in downtown Raleigh, the Ritz is the city's newest and hippest live-music venue. The Ritz caters mostly to the rock 'n' roll crowd with shows from local artists, regional acts, and tribute bands. However, the venue also hosts national acts across an array of genres, including the likes of pop star Jesse McCartney, rapper Meek Mill, indie-rockers Interpol, and alt-country legends Drive-By Truckers. General-admission tickets, seats, and the balcony are all available, so there's not a bad seat in the house.
Upcoming shows include Cypress Hill, Lucinda Williams, and Big Head Todd & the Monsters.
Kings
Also in downtown Raleigh, Kings is a cozy little nightclub that has a diverse list of musical acts. The most amazing thing about this venue is that it has two options for patrons. Head upstairs to the live-music stage for a loud, immersive experience featuring many of North Carolina's top musical acts. If you aren't in the mood for loud, head down to Neptune's in the basement. Here you can chill out, have a conversation, wait for the band you want to see, or just spend an evening with friends.
Prior acts who have played at King's include the Avett Brothers, Cursive, J. Roddy Walston & the Business, The War on Drugs, and more. Check out their website for upcoming acts, as well as karaoke and game show nights.
Red Hat Amphitheater
Owned and operated by the city of Raleigh, the Red Hat Amphitheater is a 5,990-seat venue that caters to some of the biggest names in the music industry. If you're more into singing along with your favorite tunes than discovering new acts, this is the place for you. Running from April through October, the amphitheater hosts a number of groups through Live Nation. Last year's season included a number of top-notch performances by R&B legend Brian McKnight, hard rockers Mastodon, indie-rock royalty Fleet Foxes, and more.
Upcoming concerts announced in 2019 include rapper Jon Bellion, rock band Greta Van Fleet, and the alt-country/indie band Rainbow Kitten Surprise. Choose tickets from the lawn area or reserved seating for an excellent view of the band and the skyline of downtown Raleigh.
Regardless of your tastes or style in music, the Raleigh music scene is warm and inviting, wrapping you up like a warm blanket. With country, rock, pop, and jazz all available, you can put down your smartphone, turn off YouTube, and see some of the most talented musicians you'll find anywhere. Grab a drink, sit back, and enjoy the aural pleasure.
Image via Pixabay