Top 3 Steakhouses in Raleigh
Searching for the perfect steakhouse for a perfect night out? Rest assured that Raleigh, North Carolina, has the restaurant for you. There are steakhouses for every occasion and flavor preference. When steak is prepared to perfection by a professional chef, it's easy to become an incredibly memorable dining experience. Here are a few steakhouses you must try in the Raleigh area.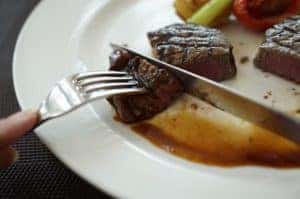 Sullivan's Steakhouse
Sullivan's has several locations throughout the U.S., but don't let that deter you from making your way to this upscale steakhouse with a broad but refined menu. Some of their appetizers include the fresh seared ahi tuna and shrimp lobster bisque. Steak courses include eight- or 12-ounce portions of filet mignon or a perfectly seared New York strip. The menu at Sullivan's is primarily surf and turf; however, there is a roasted chicken dish on the menu.
There are a few ways you can upgrade the flavor on the steak you order. For example, you have the option to include special butter such as Cajun, gorgonzola garlic, or a cabernet wine goat cheese butter. You get to choose a sauce to compliment your cut as well. The sauce options include bearnaise, bourbon peppercorn, and Sullivan's signature steak sauce.
Vinnie's Steakhouse & Tavern
Vinnie's is a nice steakhouse and bar that provides a wonderful atmosphere without becoming stuffy. Their menu includes a wide variety of steak, seafood, and Italian dishes. If you're not sure what exactly you're in the mood for, give Vinnie's a try. They offer a wide but focused selection that isn't cumbersome or cluttered.
Of course, the steak is the star at Vinnie's. You have the option to choose between several cuts or premium certified Angus beef, including bone-in filet mignon, New York strip, Delmonico ribeye, dry aged Delmonico, and plenty more. Steak sauces include bearnaise, hollandaise, green peppercorn, honey bourbon, and others. Vinnie's also has pork and lamb cuts available.
If you're looking for seafood, you're also going to love the selection that includes locally caught flounder, grilled Atlantic salmon, and sesame crusted ahi tuna. At the end of your meal, there's a broad selection of desserts, dessert wines, and other after-dinner drinks.
Brasa
For a change of pace, check out Brasa, a Brazillian-style steakhouse located on Brier Creek Parkway. The dining style is a bit different, as you pay for a level of service and the meats are delivered table-side. Each level also includes unlimited trips to their salad and sides bar, which includes shrimp, salmon, grilled vegetables, and more. For an exciting night out, make sure you spring for any level that includes the rodizio, or table-side meat service, which includes 13 different cuts of beef, chicken, pork, and lamb.
The next time you're in Raleigh looking for an amazing steakhouse experience, check out one of these options above. You won't be disappointed by the service, amazing flavors, and overall experience at these steakhouses. Give one a try to see if it becomes your new favorite date night spot.
Image via Pixabay